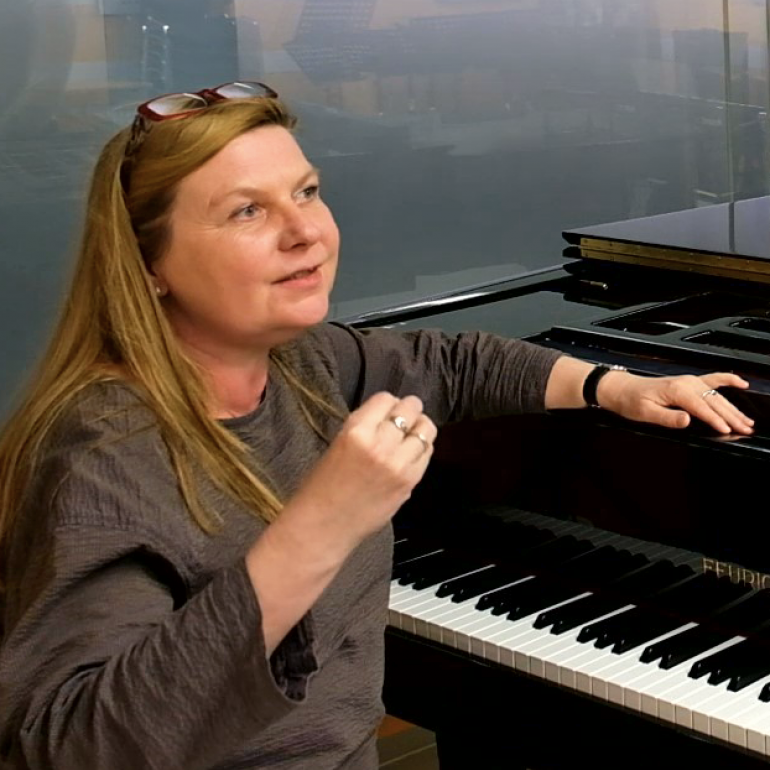 Annett Thoms
Voice (Jazz & Popular Music)
Artistic & Pedagogical Education
In the period 1992-1999 participation in many workshops on music business and band coaching
1999 - Music business and management with Fritz Rauh (Germany)
1996 - Interpretation and emotionalizing and speech phrasing of lyrics with Kevin Chalfant (THE STORM, USA)
1994 - Vocal technique with Griff Stevens (RUSSIA, USA)
1992 - University of Music and Dance Cologne
1988-1991 - Studied jazz and popular singing and music pedagogy in Weimar, Germany
1986-1988 - Jazz with Rolf Haerting Dresdner Musik-Hochschule
1980 - General vocal training, Gaby (Müller-) Albrecht, Magdeburg District Music School
Teaching Experience 
Teacher at JAM MUSIC LAB Private University for Jazz and Popular Music & at Friedrich Gulda School of Music since 2017
2021 Project E-nocchio - musical setting of the story of Pinocchio with students of JAM MUSIC LAB Private University
Vocalcoach of Nikolaj Efendi, E.LL.I, Kaliope, Roksy, RONJA, Maddy Rose, The Su'sis, VAITA, Wendi Gessner (WENDEPUNKT)
2008 discovered the Viennese Band "Kaiser Franz Josef" and coached them in Voice, Band and Business
1998 founded the music agency FAT PUSH in Berlin - music business and management
1997-2001 Berlin - piano, singing and acting teacher (also children and teenagers) at the music and art school Sebele
1994-97 Cologne - vocal teacher at the vocal school for jazz and popular music Hoffmann
Since 2000 until today private training method OVT (One-Voice-Technique, a special training method for non-classical singing in Speech Level to avoid register breaks https://www.one-voice-technique.com/one-voice-technique/
Since 1992 until today private singing lessons
Discography 
Artistic publications
2022 FAVORITEN / Stringulatur / Vienna Austria / Label: LILI Records
2019 Stringulatur live in Concert / Vienna Austria / Video
2017 BESSER SO / Stringulatur / Vienna Austria/ Label: LILI Records
1999 Sampler United Forces / Mannheim Germany / Label: GOODLIFE
1999 HEADROOM / Bats in the Head / Berlin Germany / Label: GOODLIFE
1997 EVIL / Bats in the Belfry/ Double Album / Vienna Austria / Label: GOODLIFE
1996 hardcore / Bats in the Belfry / Chicago U.S.A. / Label: GOODLIFE
1995 BATS IN THE BELRFY/ Bats in the Belfry / Cologne Germany / Label: EDEL RECORDS
Scientific publications
Miscellaneous 
2010 Band "Stringulatur", Wien – bis heute
2002 Band "El Fisher", Wien
1997 Band "Bats in the Head", Berlin
1991 Band "Bats in the Belfry", Köln
1986 Band "Flagolett", Berlin
1983 Band "Courage", Magdeburg
Musikalische Arbeit mit: USA: Buddy Miles, Griff Stevens, Storm (Kevin Chalfant), Nicolas Tremulis, Deutschland: Thomas Schütze (UKW)
August 2021 Founded and since then directed the SiAH Choir - Singing Against Hoarseness for People with Chronic Lung Disease. A long-term study based on the data and findings of the SiACo study.
April 2021 Presentation of the first results of the SiACo study https://www.one-voice-technique.com/siaco-studie/
2019-2022 Conduct SiACo study together with Prof.Dr. Berit Schneider-Stickler and Katharina Klavacs.
2018 Annett Thoms develops the basis for the SiACo study.
In 2000 Annett Thoms developed a new voice training method for non-classical singing and subsequently named it One Voice Technique (OVT). The main feature of this functional voice training is the abandonment of dividing the singing voice into several registers or voices, such as chest voice and head voice.